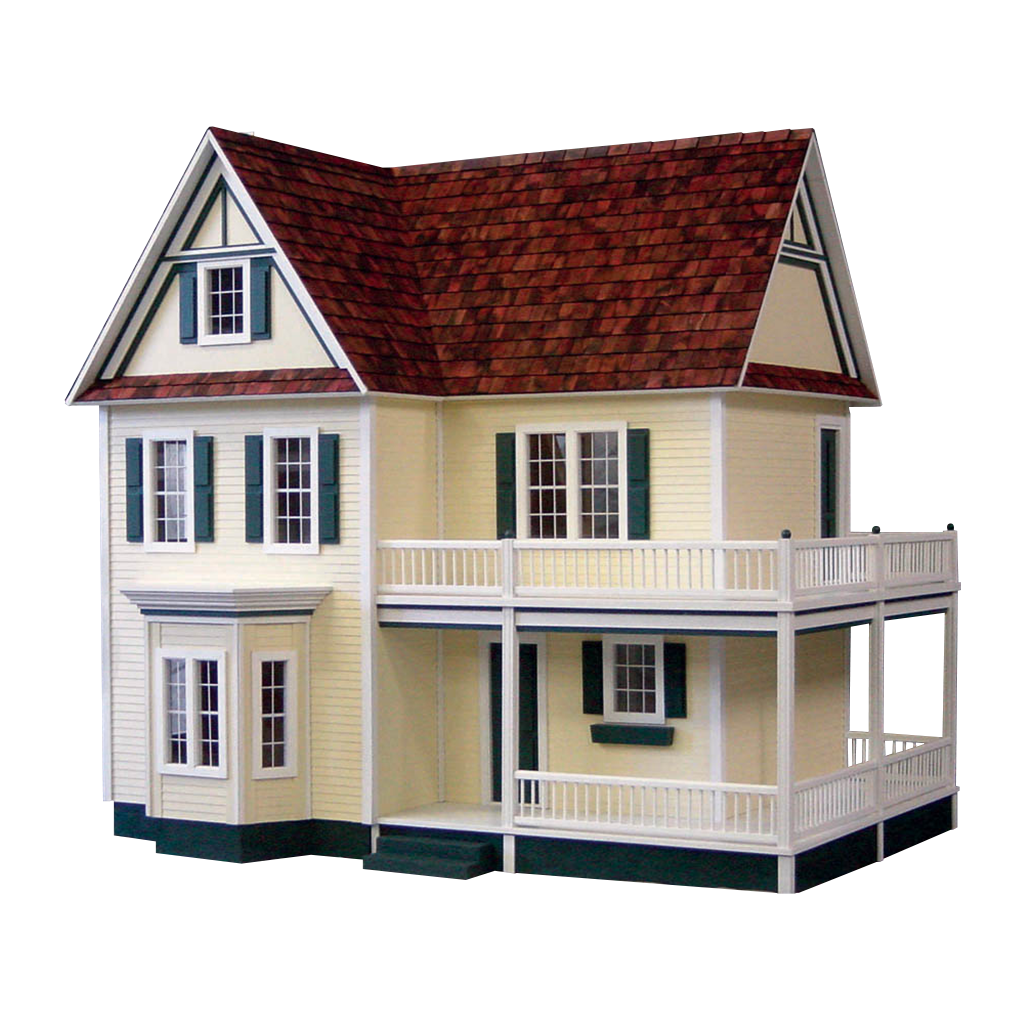 Victoria's Farmhouse dollhouse kit is a Real Good Toys best seller. With the beautiful 2-story wraparound porch and large rooms, this is a perfect starter home for any miniaturist!

If you want to purchase Fluted Interior Trim to finish the interior window/door trim, you will need approximately 18 feet (9 pieces). As for Baseboard Molding, if you end-join the pieces as you build (that's what real life carpenters do), you need 20 feet of baseboard molding. If you only cut lengths that fit in one piece, you need 22 feet of baseboard molding. (Note: at least 8 pieces must be 13 inches - 14 1/2 inches or longer. Our J-FK kit has 12 inch and 16 inch pieces to accommodate these longer pieces, more than enough baseboard is included for this dollhouse.) 

Need extra trimstrips? We now sell the Victoria's Farmhouse Trim Pack separately.  Want another divider for customizing? We now sell the E8126 Dollhouse Divider separately as well as other kit parts and a customizing pack.
Victoria's Farmhouse Dollhouse Kit Classic Features Include:
Complete Kit includes everything you need to finish as shown*
Precision Workmanship - engineered parts pre-cut to really work**
Sturdy Construction features 3/8 inch thick milled clapboard exterior walls and grooved sidewalls for easy, one-step assembly, guaranteed fit and durability
3/8 inch thick upper floors
Unique Side-Opening Access
Movable room dividers accept #1015 assembled door
Raised panel shutters & door
Expertly molded railings and porch posts
Flower boxes
Staircases
Wooden shingles for the roof
Step-by-step instructions with detailed drawings
9 inch floor to ceiling height
Need Instructions?  Download Victoria's Farmhouse Milled MDF Instructions here.
34 1/2"W x 25"D x 33"H
Up to 8 Huge Rooms
Thinking about electrifying your dollhouse?  We recommend the

 

Real Good Toys Large Dollhouse Wiring Kit.
* Paint, glue, curtains and any landscaping or furnishings are not included.
** Gingerbread (if used) and Trim Strips are supplied in easy to cut lengths.

All dimensions listed on this website indicate the overall dimensions of each dollhouse including items that protrude, such as porches and roof cresting.

Our product is recommended for adult hobbyist and children ages 13 and up.