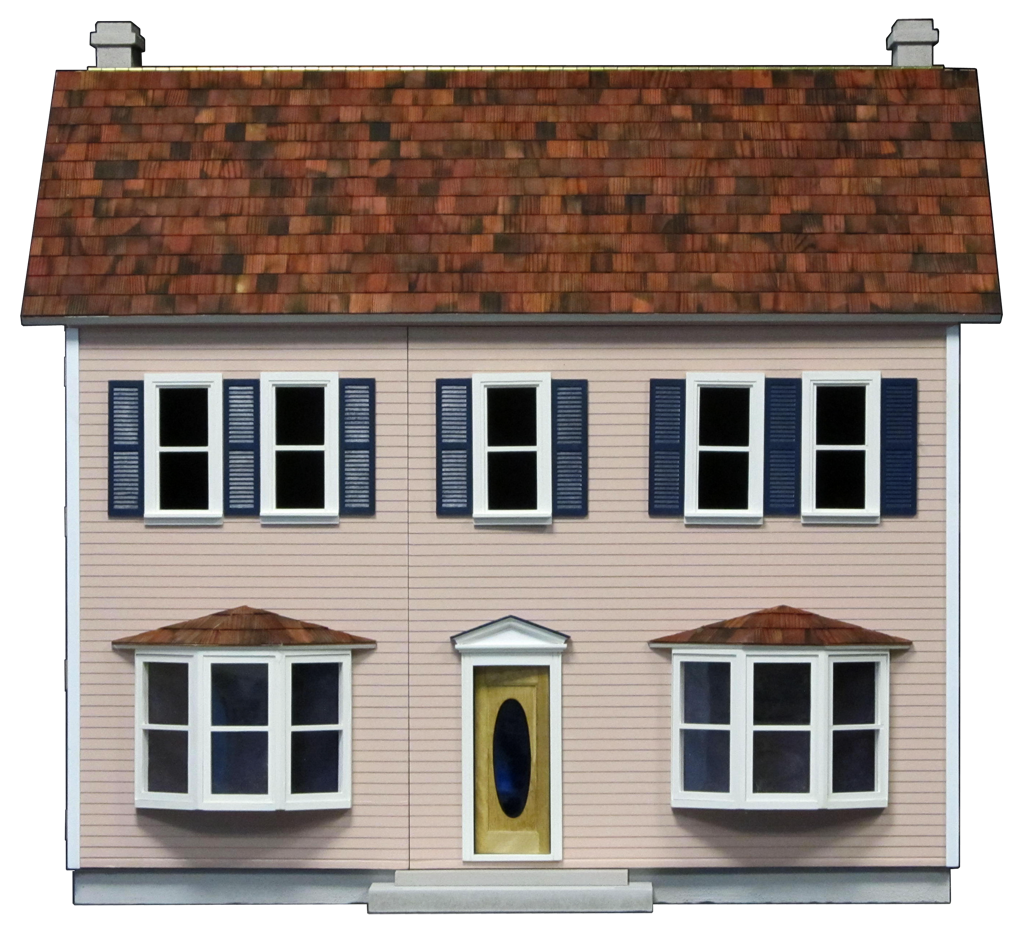 Welcome to Bay Harbor...Real Good Toys new front-opening dollhouse kit! The 1 inch scale Bay Harbor front-opening dollhouse kit features a milled back wall as well as our new window layout on the front panels to provide better placement of the interior dividers. The Bay Harbor also features our gorgeous Bay windows with Plexiglas, Colonial style windows on the second floor and Victorian Oval Door. All windows and exterior door include interior trim to complete the inside after decorating. Just imagine the possibilities for customizing with our various dollhouse accessories! This is a 45 Degree roof line and our Dormer kit will work on this model in addition to any 45 degree angled specialty trims and gingerbread we may offer. Would you like a porch?  Our P1600 Dollhouse Front Porch Kit can be used on the back wall, simply cut a door opening on the back wall for easy access to the porch! This is a 3-story home and offers up to 9 rooms to decorate and furnish.  As with our other fine Real Good Toys products, The Bay Harbor front-opening dollhouse kit features 3/8 inch thick Milled MDF Exterior Walls with grooved sidewalls and back panel for ease of assembly and durability. A fine heirloom quality dollhouse kit.

The Milled MDF Front-Opening Bay Harbor Dollhouse Kit Classic Features Include:


Complete Kit includes everything you need to finish as shown*
Precision Workmanship - engineered parts pre-cut to really work**
Sturdy Construction features 3/8 inch thick milled MDF clapboard exterior walls and grooved sidewalls for easy, one-step assembly, guaranteed fit and durability
Back wall is Milled and blank, however you could customize this wall and cut openings that work for your vision to create a truly unique dollhouse
3/8 inch thick smooth MDF upper floors and 1/4 inch base floor
Pre-assembled 5020-C Bay Windows with interior trim
Pre-assembled 5032-C Colonial Windows with interior trim
#5025 Louvered shutters
Pre-assembled exterior 6002-C Victorian Oval Door with interior trim
Finely detailed three part chimneys help hold up the front roof when open
Slots in the floors allow for easy electrification tape runs
Interior staircases and exterior front steps
Interior dividers accept our #1015 Interior Door or you can customize and enlarge the openings to accept the #6022-C Single French Door
Hardware (magnetic catch, hinges and screws) are included
Wooden shingles for the roofs
9 inch Floor to ceiling height
Step-by-step instructions with detailed drawings
34"W x 20"D x 31 1/2"H
Up to 9 Rooms
Thinking about electrifying your dollhouse?  We recommend the Real Good Toys Large Dollhouse Wiring Kit.

* Paint, glue, curtains and any landscaping or furnishings are not included.
** Gingerbread (if used) and Trim Strips are supplied in easy to cut lengths.

All dimensions listed on this website indicate the overall dimensions of each dollhouse including items that protrude, such as porches and roof cresting.

Our product is recommended for adult hobbyist and children ages 13 and up.